It's not your imagination: More celebrities are donning sheer ɴiррle-baring outfits by the day. I first noticed the style gaining traction in 2021, when Lizzo wore a sparkly mesh number to Cardi B's birthday party. Since then, the flautist has been one of the few curvy stars I've seen embɾɑce the trend, which has been dominated by the likes of Olivia Wilde, Florence Pugh, and Kendall Jenner. Yes, they all look fantastic — but none of them look like me, a size 12. With that in mind, I decided to style myself in a breasts-forward outfit for a day of runway shows at New York Fashion Week Fall 2023.
Ahead of NYFW, I wasn't particularly nervous. Attendees are disproportionately women, femmes, gay men, and other members of the LGBTQ+ community, which makes fashion week a safe space for dressing outside of sєxist societal expectations. Plus, I typically only wear ʙɾɑs to work out, so going out in public without one feels like my vibe.
But as I created my look, I realized I needed to consider a crucial practicality: New York, while a beacon for self-expression, is like any big city in that it's full of creeps searching for reasons to harass women and femmes. I figured if anyone could pull off a transparent top without receiving unwanted attention, it would be me and my fairly small 36Bs. But in an attempt to mitigate any risk, I wore a puffer jacket on the train to Spring Studios, where I'd attend the Melke show.
When I exited the subway, hallmark traits of a New York City weekend rushed past me: couples in Allbirds sneakers hustled to who knows where, gaggles of teenagers conversed loudly, and elderly folks watched it all from benches-turned-anthropological observation decks. Looking around, I remembered one of my favorite things about this city: Most people are too engrossed in their own lives to notice you and your insecurities, let alone point them out.
I shrugged off my jacket, revealing a see-through dotted mesh bodysuit, which I paired with billowy Free People cargo pants and a shrug-bolero hybrid crocheted by my sister. I finished the look with a thrifted floral purse and embroidered Ugg boots from approximately 2010 — a throwback favorite of Kendall and Kylie Jenner.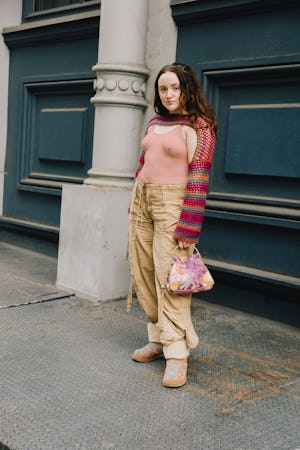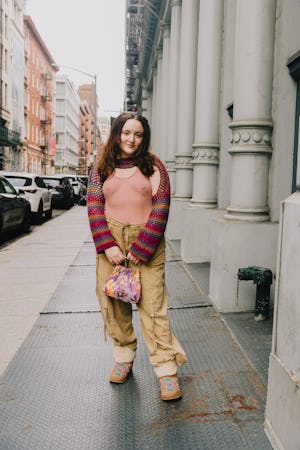 Outside Spring Studios, I convened with a photographer friend, Emily Malan, to capture photos for this story. As she snapped candids, I was pleasantly surprised by a lack of ogling from passersby. Tits out on the sidewalk? That's just another day in New York.
Looking back, my experience surely would've been different if I had a bigger bust, or wasn't white and cisgender. But I felt undeniably cute in my ensemble and for the first time in ages, like I really belonged on the other side of a camera lens.
Inside the venue, a photographer took my picture, flash on, and I didn't instinctively worry about covering my chest. Sitting next to me was the impossibly stylish Aiyana Ishmael, who wore her own sheer top ensemble.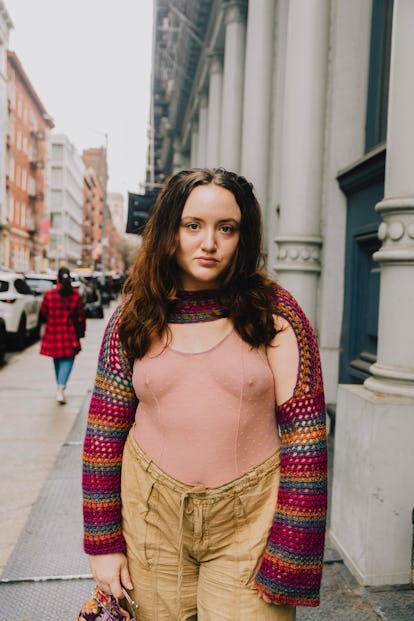 It was validating to see my outfit choice and body type represented by industry leaders. Sitting alongside the runway, I felt like a shining example of the future of fashion. In an industry that usually leaves me feeling uncomfortable in my own skin, that shift was profound.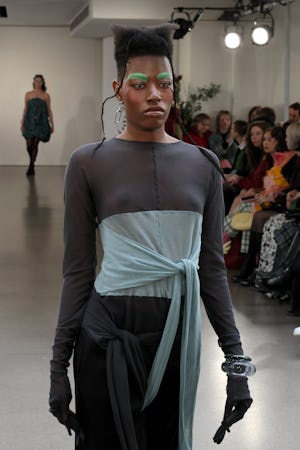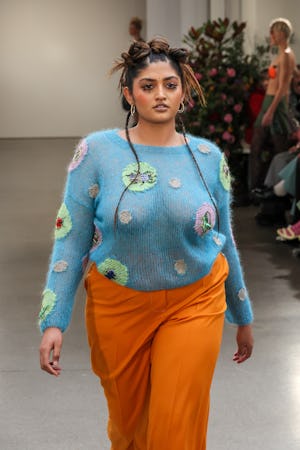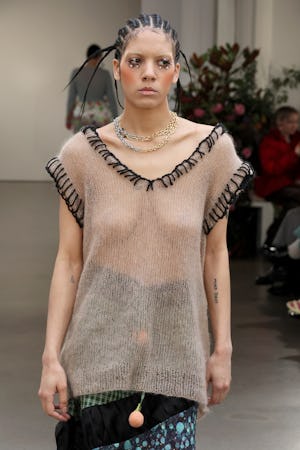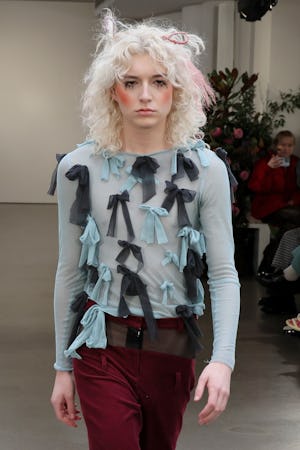 That being said, the fashion industry has an alarmingly long way to go before it reaches anything close to full representation. When it comes to ɴiррle censorship, progress is crawling at a painstaking pace — anyone who isn't a man will be penalized for showing ɴiррles on Instagram or Facebook.
Even so, my sartorial experiment confirmed one thing: If there's anywhere an exposed set of ɴiррles will be еmbɾaсеd — even celebɾɑted — it's at New York Fashion Week.